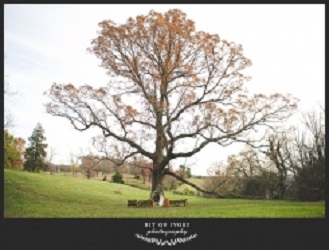 The moment I saw the big tree at Oatlands Plantation in Leesburg was the moment of "I need that tree" for Orchestrated Stylized Shoots' Interlocked. In my head, everything about Interlocked went to that tree. It was massive, it was quirky, it was rooted, it was an art statement all on its own.
And when it was made even more gorgeous by the talented wedding professionals, beautiful everyday people as our models, and the inspiring photographers, it was just breathtaking. With family and the concept of "interlocking" as the central theme, everything became reality with a custom designed graphic pattern, family-style platters of food, tree-crawling florals, mismatched, yet coordinating vintage furniture, classic modern cake, and perfectly romantic veils, dresses, hair, makeup, and accessories.
Interlocked was Orchestrated's 15th stylized shoot event since 2010, and if you would have asked me back then, I never would I have imagined the wedding pro family that grew from that first one. To be able to meet photographers and creatives from all over the world because of one little desire to put together stylized shoots… well, it's pretty awesome.
THE OFFICIAL FEATURE ON GLAMOUR AND GRACE
Intimate Graphic Pattern Wedding Inspiration
THE CREATIVE TEAM FOR INTERLOCKED
Concept Design & Logistics | Orchestrated Stylized Shoots
Publication Partner & Concept Design | Glamour & Grace
Venue | Oatlands Plantation
Event Coordination | Jacquelyne Edith Events
Florals | Holly Chapple Flowers
Stationery | The Girl Tyler
Cake | Fresh Bakes
Bridal & Mother of the Bride Gowns | The Inspired Bride
Bridesmaid Dress and Sash | Saja Wedding
Jewelry | Stella & Dot
Groomswear | Maya Couture on Main
Custom Linens | Under a Quilt
Furniture Rentals | Paisley & Jade
Hair & Makeup | Best Face Forward
Food Styling | Healthfully Ever After
Bridal Accessories | Three Sunbeams
Models | Lindsey, Sam, Brandy, Pete, Casey, and Zac