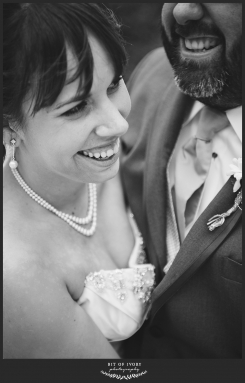 It may have rained on their wedding day, but it surely didn't dampen the fun and light-hearted energy especially with the senses of humor Megan and Aaron have… as well as their wedding party! From photo-homages to Backstreet Boys to dancing glow sticks to photo booth shenanigans, there was not one dull moment this entire celebration.
With yellow and purple gingham jam favors, tributes to Megan's study abroad in Mexico (since they were married on the Day of the Dead!), and even Aaron's preference in music (or very strong anti-preference for one particular 90's band), these two and their loved ones made the Woman's Club of Portsmouth warm and cozy with their personalities. They both even changed wardrobes for the reception and departure — Megan, a lover of all things Audrey Hepburn, with a short lace and satin reception dress and Aaron, a guy who is just no frills, in his iconic black t-shirt.
So if it's going to rain your wedding day, then definitely go the Megan and Aaron way. Just celebrate and have fun!
MEGAN AND AARON'S WEDDING TEAM
Wedding Coordination | Simply Perfect Events
Venue | Woman's Club of Portsmouth
Bridal Gown | Silk Bridal
Veil | Maya Couture
Groomswear | Men's Wearhouse
Catering | Grand Affairs
Florals | The New Leaf
Event Rentals | Waterford Event Rentals
Second Shooter | The Girl Tyler